keynote speeches
I deliver keynotes that are tailored to my audience. They bring a fresh and unexpected perspective on the topic of de-cluttering and make it relevant to all areas of business and professional development.

My talks focus on the clutter that we accumulate throughout our personal and professional lives, and raise awareness of how too much of everything can get in the way of our effectiveness, the bottom line and moving forward.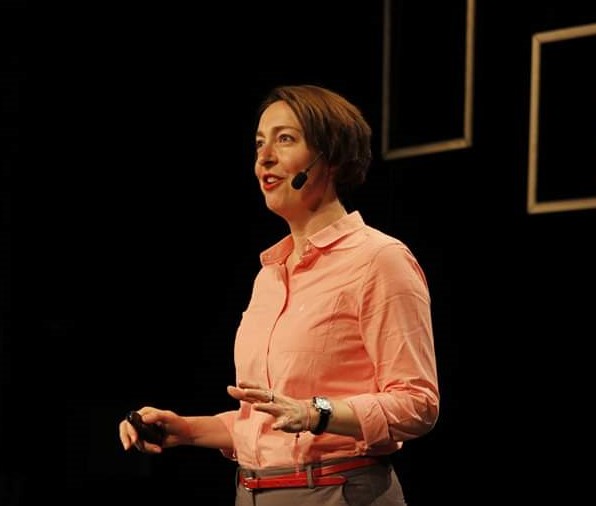 Here are a few examples of talks that I have delivered:
at the AGM of a financial services organization: they wanted the focus to be on admin and paperwork, and the importance of keeping on top of these for reduced stress and worry due to financial difficulties.
as a part of a well-being week: the focus was mental health and burn-out.
as a part of a mentorship program: I delivered a talk about de-cluttering for effective career conversations. The focus was to identify all the mental clutter that could get in the way of a good conversation, both for the employee and their manager.
a taste of what to expect
In March 2019, I was invited to be one of the speakers at the conference "Gallery of Success", organized by the Business Club at the American University of Bulgaria.
I spoke about my career path, coaching and de-cluttering. This is a different type of talk and to a different audience than I usually work with, but this video gives a sense of who I am and what it might be like to work with me. Watch it below!
"I had lots of unsolicited positive comments about your input - it went down very well and you, as ever, were a true professional. Thank you."

~ organizer
"Thank you. I thought I was the only one with all this clutter in my head but now I know I'm not."

~ attendee
"Great event, really useful for me and I will take away some of the tips and tricks regarding managing my mindset. It was also very timely as I had been working on something around prioritisation and saying 'no' but I wondered if it was just me that struggled with this, so hearing it talked about today has helped me realise it is a common problem and that by setting boundaries it protects me but also ensures that I am at my most effective."

~ attendee